Mickey Diamond Completes Term on the Board of Directors
8/27/2021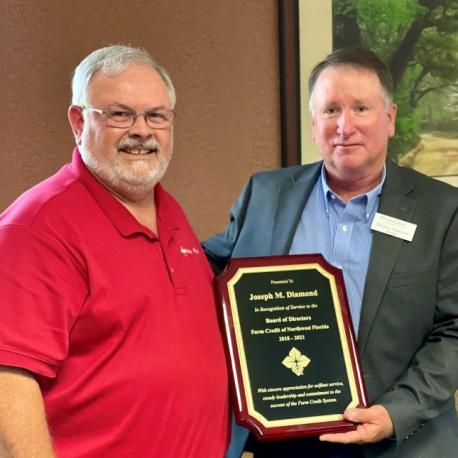 Marianna, FL-Mr. Mickey Diamond was elected to the Farm Credit of Northwest Florida Board of Directors beginning in November of 2018 and his current term ends August 2021.
President/CEO Rick Bitner shared, Farm Credit relies on the vision and strong leadership of our Board of Directors. Mr. Diamond has been an asset for our organization and the customer-owners we serve. His agricultural background, and other agricultural board service, has brought valuable insights to discussions at the Association."
Mr. Diamond is the owner/operator of a row crop farming operation located near Jay, Florida where he has farmed for 37 years. He served as Farm Credit of Northwest Florida's legislative officer in addressing the challenges affecting farmers in Northwest Florida. Mr. Diamond stated, "I would like to thank the Farm Credit of Northwest Florida members for electing me to represent them as their director. It has been an honor to serve you and I plan to continue working with Farm Credit regarding legislative issues impacting farmers and rural land owners in Northwest Florida."
Farm Credit of Northwest Florida is part of the nationwide Farm Credit system, providing financing for agriculture, timber operations and business related to farming. Additionally, Farm Credit specializes in lending for rural land and homes, whether for purchases, refinances, improvements or construction. Farm Credit of Northwest Florida serves 18 counties in the Florida panhandle. For more information about types of financing available or how Farm Credit shares its profits with customers, visit www.GoRrual.net.
View All News